From Iceland to UK. Reykjavik to London. Leaving Iceland felt like I was leaving a football game in the first quarter; there was still so much left to see. But, my plan was to hop on planes and see places, a lot of them.
Here I try not to add yet one more London blog post to the stack of thousands already floating around the Internet. It's a top ranking destination for westerners, so there's no lack of information about this city on the web about tips, tricks, facts, and bloggers own opinions on best food/sights/bars etc to visit. Chances are if you are researching this city, Google bombards you with results stating top 10 places to see in London or maybe The Do's & Don'ts of London.
Instead, I'll recap my personal itinerary; what I did as accurate as possible from start to end. Where I stayed starting from my plane landing Thursday night to taking off Sunday afternoon. Some things I'm glad I did, and other things I think were a waste of time. I like to write in this format because I believe you will have a better idea of what to do and what to avoid, all based on actual experiences with a few opinions sprinkled in.
I flew into Gatwick on Thursday landing at 9pm from Iceland. If you are planning a trip to London and not touching down at Gatwick, this first part may not help much. If you are, check it out the next 2 paragraphs.
I landed at Gatwick, now what?
I did some Google research before the flight and learned the Gatwick Express is affordable (considering general UK prices) at £15.50 and definitely the fastest option to get to London city center. I could have taken the National Express bus for £9, but the 30 mile drive in London traffic wasn't  worth it to me to save £6. The bus advertised a 90 minute travel time, but I went for the GE which officially took me into the city in 35 minutes. Keep in mind, during this time in mid 2016 the currency rate was $1=£0.65, brutal for an American.
Gatwick is massive. Luckily, walking through there are many clear signs to navigate you through to the baggage area and exit. You can't miss the signs for the Gatwick Express ticket window, but if you get lost just ask someone in an employee vest where the ticket office is. I approached one and had a friendly experience. Purchase a one-way ticket at the window and head downstairs to the train. From the ticket window, downstairs to the trains are just around the corner behind you if you are facing the ticket stand.
The White Ferry Hostel
The GE takes me to Victoria train station, which from there is a 5 minute walk to my hostel. I utilize the non data using GPS religiously overseas on my apple maps for iPhone, which leads me to my dropped pin at the hostel address. Maps.ME also has made me an excellent navigator in foreign lands. When I arrived, I saw Trump on the TV giving a speech during the Presidential race.
I have all types of experiences with hostels, and I consider that part of the excitement of travel. In this case, the hostel was above a pub. The food downstairs was great, awesome thick burgers and free breakfast. 10% off any meal and 50% off weekend brunch for booking a bed in this hostel. Unfortunately, this was by far the best part.
The living quarters were well below hostel averages. Only 3 leaky low-pressure showers with no bathroom lights for 40+ people, no airflow, no hand soap and no tissue paper for hand drying. No ventilation for the bathroom or rooms. This caused any odors to linger all
day and night. Where this place excelled in food downstairs (and it was really good) they lacked deeply on the accommodations upstairs. The price didn't justify the living conditions either, I paid £32 per night which was about $40 US. Luckily, there are hundreds of other hostels in London to choose from. My room door code they gave to me on a card:
Getting around London
Only prior knowledge I had about getting around the city was hearing about a subway system called 'The Tube'. The Victoria station was huge, a hub for 3 modes: the train, bus and tube. Inside each station there is at least 1 employee standing near the entry there to assist. The guy I approached was quite helpful. I asked for some direction and he recommended with a 3 day stay like mine to get an 'Oyster card' which is the main pass to swipe yourself in and out of each station. The card initially costs £5, then you can load on any desired amount. Note: each entry costs £2.80 and the daily max you will be charged is £6.50. That means if you ride more than 3 times in one day you will only pay £2.80 per swipe up to £6.50 max. All rides once you hit the £6.50 are free for the rest of that day. I put on £15.
Download the app 'Tube Map' it was simple to navigate and offline capable. Even with the extensive amount of lines making up the Tube, still it was one of the easiest underground systems to navigate that I've encountered.
Another sweet perk is you can sell the card back and get your initial £5 back plus leftover money you pre-loaded up to £10 when you leave London. Just insert it at a station kiosk before you leave and follow instructions.
The Albert
Westminster
52 Victoria Street London, SW1H 0NP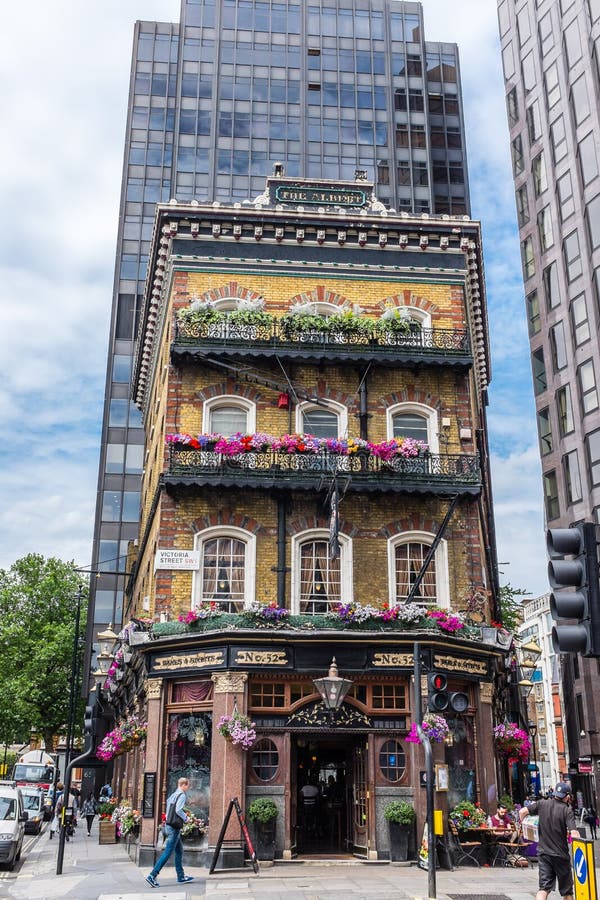 Built in 1862, this place is just what you are hoping for when you think London Pub. If you are in a London hostel just hanging out with a group, getting a bit hungry and ask "What you wanna eat", this is the answer.
I ate here with a couple American friends for a Friday lunch. Buckingham Palace and Westminster Abbey are about .5 miles apart, and Alberts is directly in between the two. This place has seen it all, the wall decorations alone prove it. Like many other London pubs, at Alberts you need to find a table then go up to the bar to order your food. Make sure you keep someone behind to hold your table.
Great surroundings, great food. You can tell there has been a lot of butts in these seats over the years. The building looks weathered but in good condition, radiating a strong presence of historical significance. I enjoyed the ambiance and the meal. It may or may not be part of a top 10 list on the many websites ranking London pubs, but still I would recommend stopping in to eat here as the portions were generous and the location is fantastic. For me it was an 8/10.
The Sites
A shortened rundown of the few other places I explored:
Buckingham Palace
You walk through St. James Park and run into the Queens house. You can no longer go up to the guards and mess with them to see if they move, the main gates now stay locked. But they do post the time for the guard rotation, so you can see them move at shift changes.
It is a place to take a photo or 2 then move on. The look of the exterior resembles many other buildings around London, it's historical and significantly detailed but not unique looking in my opinion.
Westminster Abbey
Same basic story, a good place to check out for a few minutes then move on. You can go inside and take a tour for £27. This church was built in 960, and is very detailed in its exterior decorative construction. I enjoyed it, but it only needed 5 minutes of my time as I was a bit underwhelmed.
Big Ben
Fun Fact: Big Ben is not the tower name. It is not the clock name either.
Ben is the bell inside the top of the tower. I didn't know that, so when it came up as Elizabeth Tower on my maps app I learned something new. Exit the Westminster station on the green line, go up the stairs and Big Ben is hanging out soon as you emerge from the station. With the London Eye (that big Ferris wheel) and the River Thames all right there near Big Ben, I would recommend seeing this surrounding area. Tons of tourists, but a nice panoramic view of the river with the London Eye right there.
Elizabeth Tower was worth seeing; I walked right up next to the fence and bent my neck backwards far as it would go, looking straight up to the top.
Tower Bridge & London Bridge
To those who don't know, the London Bridge is in fact not the site worth seeing. It's just a flat concrete bridge crossing the Thames, nothing special. The Tower Bridge, maybe a quarter mile west down the river is the fancy bridge. It's colorful and elegantly designed. You can wait in the hour long line and take a tour up inside of it for £8 and learn some history, or you can just enjoy it from the riverbank and take tons of photos for free. I pulled out my GoPro and recorded a couple time-lapses of the bridge with all the boats passing under and all the pedestrians and cars making their way across.
Don't Miss…
Leicester Square, Camden Market, Primrose Hill all I went to and are worth visiting. Leicester Square has awesome street food, every flavor you can imagine. Camden Market has some sweet boutique shops (including a cereal bar) and Primrose Hill is the best place to take in a free panoramic view of London. I walked up the long rolling hill and got this photo.
I did more things in London like met up with a Couchsurfing group, went on some morning jogs to cover some ground, and consumed some top quality British pub plates. I recommend always trying to meet up with fellow travelers if not staying in a hostel. Make sure to check the local area on the CS app when you arrive.
Leaving London
So now it's Sunday, I packed my backpack, took a final cold shower to rinse off the sweat from the heated dorm room and checked out of my hostel en route to the airport. I trekked back .2 miles to the Victoria station and hopped on the Tube for one final ride.
There's I believe 5 airports in London, and I didn't leave out of Gatwick. I booked a one way flight to Dublin leaving out of London City Airport. It was much closer, easier & cheaper to arrive. This airport is small which made it quick and simple to pass through security & navigate to my terminal.
I left from Victoria station at 3pm. It still took 1.5 hours to get to the airport with all the stops. I arrived at 4:30pm, excited for my evening flight to Ireland. I was set to land pretty late in yet another city that I know little about; needing to find a train or bus to take me an hour into the city at night, hopefully close enough to walk to my hostel. Long list of unknowns, all alone in Europe. Time to figure it out as I go!
At the London airport, I booked a hostel in Dublin for a couple nights; was called Spire Hostel. From there, that strong feeling of anticipation crept up inside me, that jittery eagerness of venturing into another foreign land; the European adventure rolled on.